How virtual meetings can limit creative ideas
18 min read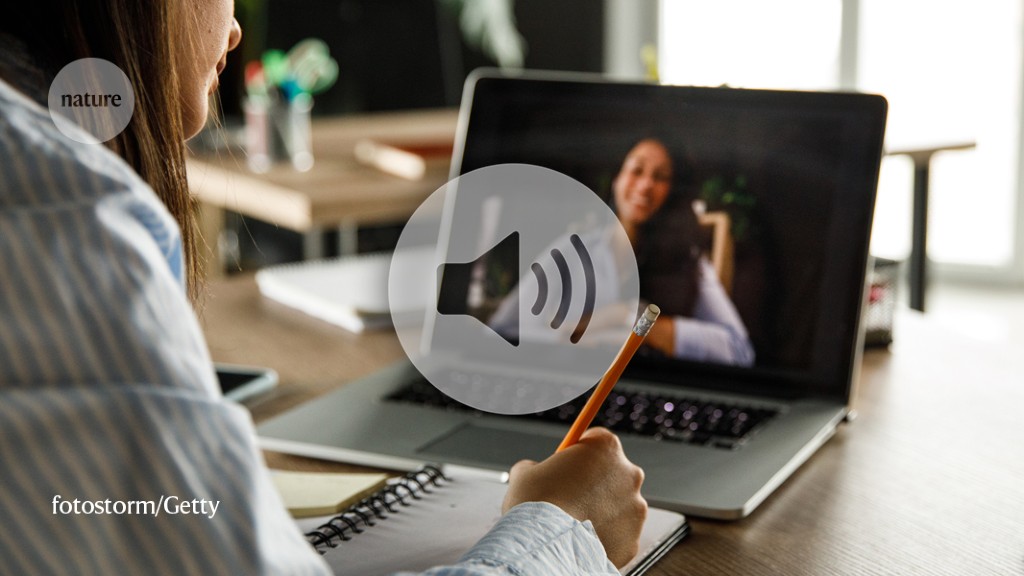 Host: Benjamin Thompson
Welcome back to the Nature Podcast. This week, why video calls are bad for brainstorming.
Host: Nick Petrić Howe
And the cells skipping a crucial step in their division. I'm Nick Petrić Howe.
Host: Benjamin Thompson
And I'm Benjamin Thompson.
[Jingle]
Host: Benjamin Thompson
First up this week, reporter Shamini Bundell has been looking into a question we've probably all been asking ourselves recently: just how are video calls affecting the way we work?
Host: Shamini Bundell
Hiya, can you hear me all right?
Video calls. Over the last two years, I've seen a lot of people's faces more often on my laptop than I have in real life, which has its pros and cons.
So, I can't quite hear you. Oh no.
Sorry, you cut out there for a sec. What was that last bit again?
Okay, so he's just text me and said he's lost all his internet, like even his phone.
Are you still there? This does not bode well.
Host: Shamini Bundell
Video calls can be frustrating, yet they also allow more people than ever before to work from home. But say you've fixed all the technical issues, you've got great internet and you need a one-on-one meeting with your boss to brainstorm ideas for a new project. Which is better, getting together face-to-face or jumping on a virtual call? A new paper in Nature this week is starting to provide some data on what difference it might actually make.
Interviewee: Melanie Brucks
When the pandemic hit, I had so many people reaching out to me asking about like how to run Zoom studies, and what's the research out there.
Interviewer: Shamini Bundell
This is Melanie Brucks, a researcher with an interest in creativity and innovation. Melanie wanted to directly compare in-person and virtual conversations.
Interviewee: Melanie Brucks
This work looks at what we are now calling the 'new normal', which is virtual interaction, and how that might affect innovation.
Interviewer: Shamini Bundell
To test this idea, Melanie set up an experiment involving pairs of people given a creative challenge.
Interviewee: Melanie Brucks
Participants would either go into the same physical space, which was just an empty lab room, or we would split them into two separate lab rooms and have them communicate with video technology.
Interviewer: Shamini Bundell
Participants were asked to come up with creative uses for particular everyday objects, as many ideas as they could in five minutes. The results showed that the in-person pairs generated more ideas.
Interviewee: Melanie Brucks
We were really interested in when we saw the results, that simply being in the same physical space as someone else improves idea generation. So, in-person groups are generating around 16 or 17 ideas, whereas the virtual condition is generating between 13 and 15.
Interviewer: Shamini Bundell
But is this really that surprising?
Interviewee: Melanie Brucks
When we first started talking about this research idea to different people, a lot of people mentioned yeah, Zoom is just a worse version. Of course, people are just bad at Zoom, like everything is going to be worse at Zoom.
Interviewer: Shamini Bundell
So, maybe this has nothing to do with creativity. Melanie tested this with a second task.
Interviewee: Melanie Brucks
And what we asked participants was to identify their most creative idea.
Interviewer: Shamini Bundell
The idea selection task uses very different skills from the brainstorming task.
Interviewee: Melanie Brucks
But what's interesting is video conferencing wasn't universally bad. When it came to idea selection, we found, if anything, the virtual condition was better. The virtual condition identified a higher-quality idea than the in-person condition. Now, this is a smaller effect, so we can't say for certain that they're better, but they certainly aren't worse.
Interviewer: Shamini Bundell
So, what is it that might make idea generation, and only idea generation, harder over a video call?
Interviewee: Melanie Brucks
We looked at how much participants felt they connected with the other through self-report. We looked at unconscious connection through mimicry. We looked at trust through a monetary game. We also looked at how much there were speaker switches to see if there was trouble with communication coordination. We looked at whether there was crosstalk where people were talking over each other for communication coordination. What we find is, for the social connection, no difference between conditions. For the communication coordination, we did find slight differences, but it couldn't explain the effect. Even controlling for these differences, we still find that the virtual condition performs worse when it comes to idea generation.
Interviewer: Shamini Bundell
But there was one difference between virtual and in-person conversations that did seem to make a difference, and Melanie spotted it by tracking people's gaze.
Interviewee: Melanie Brucks
Are you looking at your partner, are you looking at the surrounding environment, or are you looking at the task? And it's interesting, again, if you ask people what their intuition is, they think that there's more social connection when we're in person, and so we're probably engaged with our partner more. But we found the exact opposite, so we found that in the virtual condition, people are looking significantly more at their partner, almost double. And because of that, it's at the expense of their broader environment.
Interviewer: Shamini Bundell
Previous research has shown that people are more creative when they're less focused.
Interviewee: Melanie Brucks
And we realised there's a difference in the physical setup because when I'm communicating in person, I have the entire environment as our shared environment. Wherever I look, that is going to be part of my partner's environment too. However, when we're talking virtually, our shared environment is pretty limited to the screen, and so if I want to show engagement, if I want to be involved in this interaction, it makes more sense for me to limit myself to a screen. And we thought that this could lead to more focus, which should hurt idea generation because we're actually the most creative when we're unfocused and free.
Interviewer: Shamini Bundell
So, rather than online conversations being inherently always better or worse, it could be that we need to adjust how we talk based on what we want to achieve.
Interviewee: Melanie Brucks
I use this now all the time. I don't have evidence for this yet, but based on my theory, I always suggest turning off the camera during idea generation so you can walk around, you can look around.
Interviewer: Shamini Bundell
The idea that virtual meetings could impact things like focus and idea generation is likely to be of great interest to people around the world. But it's not as simple as saying, right, let's get back to the office then.
Interviewee: Melanie Brucks
It's not like we have to be in person. It's not also that it doesn't matter whether or not we're in person.
Interviewer: Shamini Bundell
Melanie is keen to test her theories further, but there's a bit of a problem.
Interviewee: Melanie Brucks
All of this research has been halted because we can't collect in person data without people wearing masks, and that of course completely changes the experience. So, there's tons of different experiments I would love to run that I haven't been able to do because we can't run in-person studies right now.
Host: Benjamin Thompson
That was Melanie Brucks from Columbia Business School in the US. For more on this research, be sure to check out the show notes, where there'll be a link to Melanie's paper. And Shamini has also made a film about the work, where you can see some people trying to be creative on video call and, Nick, one of those people is you.
Host: Nick Petrić Howe
Yes, in the video you can see me make a little bit of a fool of myself as I try to think of ideas for how to use a frisbee. It's a cool video. Be sure to check it out. There'll be a link to it in the show notes. Coming up on the podcast, though, we'll be hearing about a new sort of cell division that's been found in the skin cells of zebrafish. Stick around for that. Right now, though, it's time for the Research Highlights, read by Dan Fox.
[Jingle]
Dan Fox
A painting of a deer on an ancient wall fragment from a Guatemalan pyramid could be the earliest known evidence of the Maya calendar, according to researchers. Excavations at a Maya site in lowland Guatemala called San Bartolo uncovered a pyramid complex constructed over hundreds of years, with newer additions erected on top of the rubble of older structures. A wall fragment from one early phase, dated around 2,200 years old, included a depiction of a deer head and the Maya numeral meaning 7, potentially representing a day in the Maya calendar system, according to the team behind the work. Ancient cultures across Mesoamerica, including the Maya, used the 260-day calendar, which identified each day using 1 of 20 names and a number from 1 to 13. The authors say the '7 deer' glyph might represent the earliest evidence yet for this religious calendar – which is still used by some indigenous communities in the region. Make a date with that research in Science Advances.
[Jingle]
Dan Fox
Tourists' sweet snacks could be damaging the metabolism of rare iguanas in the Bahamas. On the Exuma islands, tourists routinely feed skewers of grapes to local Northern Bahamian rock iguanas, but these grapes are much higher in sugar than the reptiles' typical fair. In humans, a high intake of sugar can lead to health problems, including diabetes, so scientists wondered whether the Bahamian lizards' sugary diet could give them the iguana equivalent. To find out, a team gave sugar water to 16 captive green iguanas every other day, and also measured the blood sugar levels of 113 Northern Bahamian iguanas. Around half routinely ate grapes, but the rest lived on islands off the tourist trail and fended for themselves. As predicted, the reptiles fed on sugar water or grapes had a reduced ability to regulate the sugar in that blood. The researchers call for studies to determine whether this threatens the health and survival of the iguanas, which are at high risk of extinction. Read that research in full in the Journal of Experimental Biology.
[Jingle]
Interviewer: Nick Petrić Howe
This week in Nature, there's a paper that shows a new kind of cell division.
Interviewee: Chen-Hui Chen
When we first saw it, we are not sure whether what we saw is real.
Interviewer: Nick Petrić Howe
This is Chen-Hui Chen, one of the researchers behind the new paper. He and his colleagues were looking at how skin cells in zebrafish work together as the animal grows. But while they were doing it, they saw something rather unusual. In some cases, the skin cells on these fish could divide but without replicating their DNA.
Interviewee: Chen-Hui Chen
So, we found that some skin cells can undergo two rounds of cells or cell divisions without the DNA replication.
Interviewer: Nick Petrić Howe
Now, if it's been a while since your last biology class, let me put it this way. For most cells, duplicating all their DNA before they divide is kind of important. It means that each new cell has a full copy of all the genes and instructions they need to, well, function as a cell. But that wasn't the case for these cells. Instead, when one of these cells divided, the new cell just took a portion of the original's DNA. These 2 cells could then divide again, resulting in 4 cells, each made of a portion of the original's DNA. This kind of cell division is counter to what hundreds of years of cell biology have taught us, so Chen was pretty surprised to see this going on. However, there have been similar kinds of division seen in certain kinds of frog and fly embryos, but only after treatment with specific chemicals that prevent DNA replication. In the fish, though, this division was part of what was just happening during their normal growth. Given that this kind of division is practically unheard of, Chen was keen to check his workings to ensure that this division without DNA duplication was actually occurring.
Interviewee: Chen-Hui Chen
We were thinking it could be something wrong with our tools, maybe our reagents are leaky. It could be many other explanations. So, we later do a series of controls, and also we conduct very extensive assays to make sure there is no DNAs being synthesised in this skin layer.
Interviewer: Nick Petrić Howe
Ultimately, Chen was convinced by what he saw. There really didn't seem to be any DNA replication going on in these skin cells. But, as I mentioned, DNA is kind of important, so why was this happening at all? Chen's got an idea.
Interviewee: Chen-Hui Chen
We think that this division is a temporary measure the animals use to expand their body surface.
Interviewer: Nick Petrić Howe
The team showed that this strange division only seemed to happen about a week into the zebrafishes' life – a time when they have a bit of a growth spurt. Then, a few days later, this odd division stopped, which suggests that it may be a way to just make sure there's enough skin to go around during this early growth period. Covering the surface of the animal, preventing everything from leaking out, in this case was more important than having all the usually essential DNA. But if these cells were lacking DNA, were they not a bit, you know, worse?
Interviewee: Sara Wickström
For sure, for sure, because, obviously, the fact that they don't have the genes to make the appropriate proteins – that's essential.
Interviewer: Nick Petrić Howe
This is Sara Wickström, a cell biologist who's been writing about Chen's paper in a News and Views article.
Interviewee: Sara Wickström
But since these cells are anyway kind of on their way to die because there's this constant turnover of epithelium, it's probably not so important for them to maintain total functionality. So, it's likely that their most important function is to provide the surface coverage and then, since they are bound to die, all the other functions are less essential.
Interviewer: Nick Petrić Howe
This lines up with Chen's thinking into why this is happening, that these cells are most likely just temporary. But, for Sara, this raises many fundamental questions about cell biology itself.
Interviewee: Sara Wickström
First of all, I think it's just very interesting because basically accurate replication of the genome is critically important to prevent cancer or even to just maintain cell viability, and that's why cells have developed a lot of so-called 'checkpoints' to kind of control that their replication has happened perfectly before they enter cell division. And now, it will just be interesting to understand how these cells potentially bypass these checkpoints.
Interviewer: Nick Petrić Howe
Chen proposes that one part of the mechanism might be to do with the skin cells getting a bit stretched. As the animal grows quickly, the cells on the outer surface come under tension, and this tension could open certain ion channels that potentially signal to the cells that they should undergo this curious division. Sara thinks this is likely, but how exactly this leads to the odd division isn't quite clear.
Interviewee: Sara Wickström
But of course, it is quite well understood how this tension opens the channel, but how then this leads to this very specific signal of cell division, we have no clue. So, that's going to be the next exciting avenue.
Interviewer: Nick Petrić Howe
For 180 years, scientists have largely only considered division with DNA replication in animal species, so this new finding raises a whole lot of questions. When cells do things like divide without properly sorting their DNA out, that usually means cancer. But in this case, the cells seem to be pretty under control. For Chen, one key question he's looking to answer is how widespread is this strange division?. Does it occur in other species?
Interviewee: Chen-Hui Chen
Because we see these unique cell division events in zebrafish, it would be very interesting to identify whether the same mechanism would also exist in other vertebrate species, such as humans.
Interviewer: Nick Petrić Howe
That was Chen-Hui Chen, from Academia Sinica. You also heard from Sara Wickström, from the Max Planck Institute for Molecular Biomedicine and from the University of Helsinki. If you want to see these strange cells dividing, we've also made a video about it. You can find that, along with a link to the paper, in the show notes.
Host: Benjamin Thompson
Finally on the show, as always, it's time for the Briefing chat, where we discuss some of the articles that have been featured in the Nature Briefing. Nick, why don't you go first this week? What have you found?
Host: Nick Petrić Howe
Well, Ben, I've been reading an article in The New Yorker all about how we can actually study creatures that are delicate and also really far underwater.
Host: Benjamin Thompson
Right, and when you say really far underwater, I guess I'm thinking about maybe those jellyfish that you sometimes see in nature documentaries have those kind of amazing light shows they put on. But I imagine the pressure down there is enormous. But when you sort of take them up to look at them in a lab, that pressure becomes a lot lower and maybe isn't particularly good for the jellyfish?
Host: Nick Petrić Howe
Yeah, that's certainly a part of this story. These things are really hard to study, and this story actually focuses on something called a giant larvacean, which has a Latin name which I'm going to mangle, which is Bathochordaeus stygius. And basically, it kind of looks like a big glowing shopping bag, and this thing is floating around underwater. And, well, it's very delicate and, as you say, if you bring it to the surface, it will just sort of collapse. So, scientists have been trying to figure out how they can study things like this, and they think they've got an idea now.
Host: Benjamin Thompson
I'm guessing you can't just sort of stick your underwater shopping bag into an MRI scanner then?
Host: Nick Petrić Howe
No, I mean, MRIs have been one of the suggestions for how to do this, but there isn't anything hard in the animal for it to work with and give you that sort of 3D image that will really give you some information about them. So, the new idea is to use lasers, so you know you have these deep water submersibles that go and like identify things, people were basically trying to use these to capture the creatures, but that's quite difficult. The creatures could get pulled into the rotors, which is not going to help anyone to study them. So, the idea with this is to shoot little lasers at them, and that can illuminate their interiors. And the sort of information you get from the laser read, you can then use to build it up in a computer and then have a model of how these creatures live and interact with the water.
Host: Benjamin Thompson
Wow, underwater submarine lasers. Nick, I am so in for this story. Has this been tried then so far? What have researchers learned?
Host: Nick Petrić Howe
Yeah, so it was tried for this giant larvacean, and what it's revealed is that the sort of bag part of it, this sort of big, almost floaty material that's around it, may be a way for it actually to filter out large particles that can block up its digestive tract. And yeah, this is something that we had absolutely no idea about before these researchers shot a laser into it.
Host: Benjamin Thompson
I mean, that's really cool. I mean, I guess the cliche is we know more about the surface of the Moon than the base of the oceans, right? I guess there's loads of creatures out there that we need to learn more about.
Host: Nick Petrić Howe
Yeah, the researchers that were featured in this article study things like this, that are sort of soft and deep underwater. They're really hard to get an idea of how they live and what they're like, and they've tried lots of different things in the past. So, they're really excited about this new sort of laser approach, and one of the researchers behind this laser as well has said already, from studying the shopping bag creature, that this could be used as inspiration to make sort of lightweight materials for use in sort of space travel and things like that. So, there's all sorts of cool things to uncover below the sea.
Host: Benjamin Thompson
Well, Nick, that is an awesome story. Thank you very much. And my story is, well, you mentioned space travel there, mine is very much about space travel and something that I read in Nature. And it's a new report from an influential panel of US planetary scientists that say it's high time that NASA sent a flagship mission to study the mysteries of the giant planet Uranus.
Host: Nick Petrić Howe
Oh, Uranus is one of my favourite planets, partly because if you mispronounce it, it sounds kind of hilarious. But it is very cool, very far away and very interesting, and I don't think we know much about it.
Host: Benjamin Thompson
Yes, you're absolutely right. It is a really, really long way away – a couple of billion kilometres from Earth, pretty much. And the new proposed mission would be the first since Voyager 2 whizzed past in 1986. And yes, it is quite a strange planet then. So, it's an ice giant – this large amount of icy material swirling around a rocky core – and there are lots of scientific mysteries then. So, this planet rotates on its side, for example. It has this really complex magnetic field. It's got 27 known moons. And it has these powerful winds, apparently, that whip through its atmosphere made up of hydrogen, helium, and methane and, in many cases, we don't know a lot about what's driving these.
Host: Nick Petrić Howe
Wow, so there's a lot of mysteries there to uncover. But I'm wondering why they're planning to go to this planet now? It's been more than 30 years. It was before I was born that last time they went to this planet, so what's the sort of renewed interest?
Host: Benjamin Thompson
Yeah, I think one of the drivers behind this, Nick, is kind of we have the technology now to make this happen. But in particular, Falcon Heavy rockets are available. Now, these are commercial rockets that are already in service right now. And so, from what I understand, if a spacecraft could be designed and built, it could be ready to go aboard one of these rockets as early as 2031 if it gets funded and that is, of course, a pretty big 'if'.
Host: Nick Petrić Howe
I guess then, if we're waiting on funding, what's the sort of next step?
Host: Benjamin Thompson
Well, this report was published by the US National Academies of Sciences, Engineering and Medicine and, from what I understand, NASA almost always follows the panel behind its advice. So that's, I think, a step in its favour there. And if NASA do decide to go for it, it's suggested that it might cost US$4.2 billion, which is a lot of dollars, of course. But they might decide to partner with another space agency, maybe the European Space Agency, for example. And as luck would have it, last year, they published a study saying that they should partner with someone to study ice giant planets, so it could be that the stars are aligning, if you will, and that this could be something that goes ahead in future.
Host: Nick Petrić Howe
Well, we always love talking about space on the Briefing chat and we need more stories for it, so what might this mission do?
Host: Benjamin Thompson
Well, the report proposes a mission that drops a probe towards Uranus to look at the atmosphere and, as I said, the drivers of what's causing this kind of swirling maelstrom. And it goes on to say that the main probe should then spend years flying around the planet, having a look at it, maybe to get more of an idea of this complex magnetic field, which might be causing the planets glowing aurorae, for example. And also to have a look at some of the moons, right. So, as I say, 27 known moons, so maybe they'll choose some that are perhaps big enough to have water underneath their icy services, for example. So, lots of excitement, I think, from researchers to find out what's going on on this planet. But I will say that there's a lot of other things in this report that aren't about Uranus, so we'll put a link to the news story in this week's show notes, where you can have a read of that, and also a link to where you can find out more about submarine lasers. And also we'll put a link on where you, listener, can sign up for the Nature Briefing to get stories like this delivered directly to your inbox.
Host: Nick Petrić Howe
That's all we've got time for this week. But don't forget, you can always reach out to us on Twitter – @NaturePodcast. Or you can send an email to [email protected] I'm Nick Petrić Howe.
Host: Benjamin Thompson
And I'm Benjamin Thompson. Thanks for listening.
https://www.nature.com/articles/d41586-022-01197-x