Examining 5 potential trade destinations for Jae Crowder
7 min read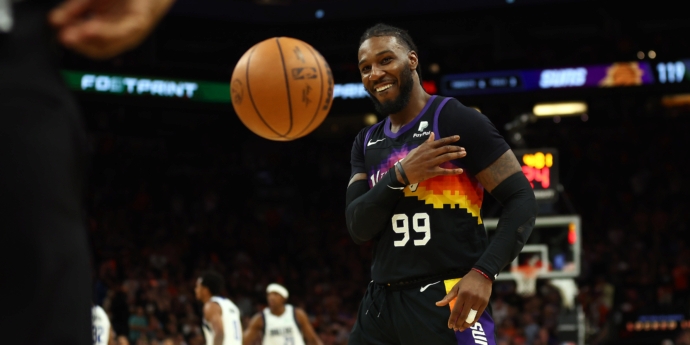 Jae Crowder seems ready to begin a new chapter away from the
Phoenix Suns, which shouldn't come as a surprise if you've followed
his social-media activity throughout the offseason. From openly
mentioning that he wants a fresh start elsewhere to liking tweets
about him joining the Miami Heat or Dallas Mavericks, Crowder's
intentions have been out in the open for a while now.
This awkward tension potentially reached a boiling point on
Friday night, less than a week from when Phoenix opens up training
camp following their jaw-dropping postseason exit in the Western
Conference Semifinals.
After the Arizona Republic's Duane Rankin tweeted about how the
position battle between Crowder and Cam Johnson would be a key
storyline to watch during training camp, Crowder tweeted (then
quickly deleted): "99 WONT BE THERE!."
Phoenix has reportedly been shopping Crowder in recent weeks,
including in trade discussions with the Utah Jazz as the Suns
targeted Bojan Bogdanovic, who was ultimately dealt to the Detroit
Pistons in exchange for Kelly Olynyk and Saben Lee. Arizona Sports
98.7's John Gambadoro reported that talks between the Suns and Jazz
broke down over the potential inclusion of Jarred Vanderbilt
alongside Bogdanovic, but the deal would've involved Crowder
heading out of the Valley.
With Crowder seemingly wanting to leave Phoenix, will a deal be
struck before training camp opens on Tuesday? For a team looking to
bounce back from postseason failure, it might not be the best idea
to keep a disgruntled Crowder in the equation.
Although the veteran wing can be extremely volatile as an
outside shooter, his winning tendencies and overall two-way
presence would be a major boon for any contender around the
Association.
Which teams make the most sense to pursue Crowder? Let's go
ahead and dive into some potential destinations.
CHICAGO
BULLS
Before injuries ravaged their roster last season, Chicago was
nestled into the Eastern Conference's No. 1 seed thanks to their
well-balanced attack on both ends. Now, Lonzo Ball's future up in
the air due to a nagging meniscus issue, the Bulls need to find
some more help defenders who can hold their own. Right now, Crowder
could be the ideal remedy when forecasting all of the elite
score-first wings in the East.
Bulls receive: Jae Crowder
Suns receive: Coby White, Javonte Green
Immediately, Crowder slides into an important slot for Chicago
where he could benefit from a low-usage role similar to his current
environment in Phoenix.
For the Suns, this type of haul should be the expectation in any
potential Crowder-related transaction. If Bogdanovic was unable to
net a first-round pick for Utah, it's hard to envision Crowder
topping that barometer either.
With the inconsistencies of Cameron Payne plaguing the Suns'
guard play last season, especially in the playoffs, taking a flier
on White for the price of Crowder makes sense. Meanwhile, Green is
a smaller version of Crowder but someone who could play a role off
the bench and produce when called upon.
It's possible that Chicago would want a pick back in this trade
since they are parting with the No. 7 pick in the 2019 NBA Draft
(who is still just 22 years old), which could become a sticking
point in negotiations.
TORONTO
RAPTORS
If you're a capable wing, there's no doubt that Toronto will
show some level of interest. The Raptors are building their entire
identity around wings, and the results are really beginning to bear
some fruit. Inserting Crowder within Toronto's rotation would be a
huge win, especially as a veteran mentor for younger players at his
position like OG Anunoby and reigning Rookie-of-the-Year Scottie
Barnes.
Raptors receive: Jae Crowder
Suns receive: Thaddeus Young, Malachi Flynn
Phoenix has been interested in Young since last year, when a
trade or buyout from the San Antonio Spurs seemed inevitable.
Instead, Toronto acquired the veteran in exchange for Goran Dragic
and a protected 2022 first-round pick. Young is a strong candidate
to replace Crowder, because what he doesn't provide in shooting he
offers in spades everywhere else. Within head coach Monty Williams'
"0.5" system, he would thrive as a pass-happy connecting 4 who
could play alongside Deandre Ayton or Dario Saric.
Flynn has been unable to find his footing in Toronto, but could
get a long-term look in Phoenix off the bench. After Payne's
postseason woes, the Suns would be wise to find some competition
heading into training camp. 
It's possible that Toronto is content keeping Young, whom they
just signed to a two-year extension. It all depends on how they
value the 32-year-old Crowder and whether they think he's a big
enough upgrade over Young to justify giving up Flynn.
MIAMI
HEAT
Crowder's top choice seems to be a reunion with the Heat, but
the Suns have no real value to extract there. It's doubtful that
Miami would want to include Caleb Martin, who isn't eligible to be
traded for another few weeks anyway. Instead, the Heat will have to
get creative if they want to bring Crowder back into the fold and
rope in a third team to facilitate.
Well, guess what? One organization has openly expressed a desire
to do just that, as long as they get back an enticing young
prospect or a draft pick. Say hello to the Indiana Pacers' new vision.
They are expected to be one of the Association's most active teams
from now through February's trade deadline.
Pacers president of basketball operations Kevin Pritchard
recently told Basketball News
that they want to keep stockpiling ammunition while taking
advantage of their newfound salary-cap flexibility. Not many teams
would be willing to take on Duncan Robinson's contract, but Indiana
is in the position to bite the bullet for another pick.
Quickly cobbling together a three-team deal with the Suns, Heat
and Pacers, here's a potential framework where all sides could
potentially walk out happy:
Heat receive: Jae Crowder
Suns receive: Oshae Brissett, future second-round pick
(via Miami)
Pacers receive: Duncan Robinson, future first-round pick
(via Miami)
For Phoenix, landing Brissett from Indiana is the right kind of
flier to take. Consistently showing an improved offensive game,
Brissett could shine in the Suns' system, spelling Mikal Bridges
and Cam Johnson off the bench. And with the Pacers wanting to have
a large rotation to play as many young pieces as possible,
Brissett's role could be slightly reduced heading into 2022-23.
ATLANTA
HAWKS
The Hawks have pushed their chips to the middle of the table
this offseason when they swung for the fences by acquiring Dejounte
Murray. With their star backcourt of Trae Young and Murray, Atlanta
is in win-now mode so acquiring Crowder certainly makes a lot of
sense. Not only would Crowder help take some pressure off
defensively, he would be set up well by Young and Murray on the
perimeter.
As evidenced by the Suns insisting that Vanderbilt be included
alongside Bogdanovic in a potential trade with Utah earlier this
week, it wouldn't be a shock to see them try a similar method here
with Atlanta.
Hawks receive: Jae Crowder, Landry Shamet, two future
second-round picks
Suns receive: Bogdan Bogdanovic, Justin
Holiday
Instantly, the Suns upgrade their third guard spot with
Bogdanovic, plus they add a hard-nosed, versatile wing as well. Who
knows if the price would be a first-round pick, but maybe Phoenix
could pull this one off with multiple second-round selections
because of Bogdanovic's injury concerns over the past few
years?
As ESPN's Brian Windhorst relayed earlier this week, the Suns
are willing to take on salary past this upcoming season. Bogdanovic
has an $18 million player option for 2023-24, but his fit within
the Suns' offense would be well worth the price.
Based on the other packages, this feels like the best bet for
Phoenix leading into training camp, and Atlanta would welcome a
win-now addition into the fold as well.
CLEVELAND
CAVALIERS
All of the sudden, Cleveland looks like a real threat to make a
deep postseason run. Thanks to the jaw-dropping addition of Donovan
Mitchell earlier this month, the Cavaliers' rotation is stocked to
the brim going nine or 10 players deep. What about adding another
piece like Crowder to bolster this strength even more?
Cavaliers receive: Jae Crowder
Suns receive: Cedi Osman, Lamar Stevens
Crowder could slide into a starting role for Cleveland ahead of
Isaac Okoro because of his shooting ability or headline the second
unit alongside fellow veteran Kevin Love. Assuming Crowder jumps
into a starting spot, which seems to be his desire, here's how the
Cavaliers' rotation would look:
Starters: Darius Garland, Donovan Mitchell, Jae Crowder,
Evan Mobley, Jarrett Allen
Second Unit: Ricky Rubio, Caris LeVert, Isaac Okoro, Dean
Wade, Kevin Love
With a rotation like that, it allows Cleveland to offload Osman
and save some money on the backend for 2023-24. In Phoenix, Osman
and Stevens would find roles within the second unit and benefit
greatly from the spacing provided. The Suns covet shooters, so it
wouldn't be a surprise to see them utilize Osman off the bench,
while Stevens plays a smaller role as wing depth.
Over the next 72 hours heading into media day and training camp,
Crowder's seemingly uncertain future in the Valley will be a story
worth monitoring. We shall see whether Crowder stays with the Suns
or heads elsewhere when the dust ultimately settles.
https://www.basketballnews.com/stories/examining-potential-trade-destinations-for-jae-crowder