Delta adds 9 transatlantic routes, 2 new destinations for next summer
5 min read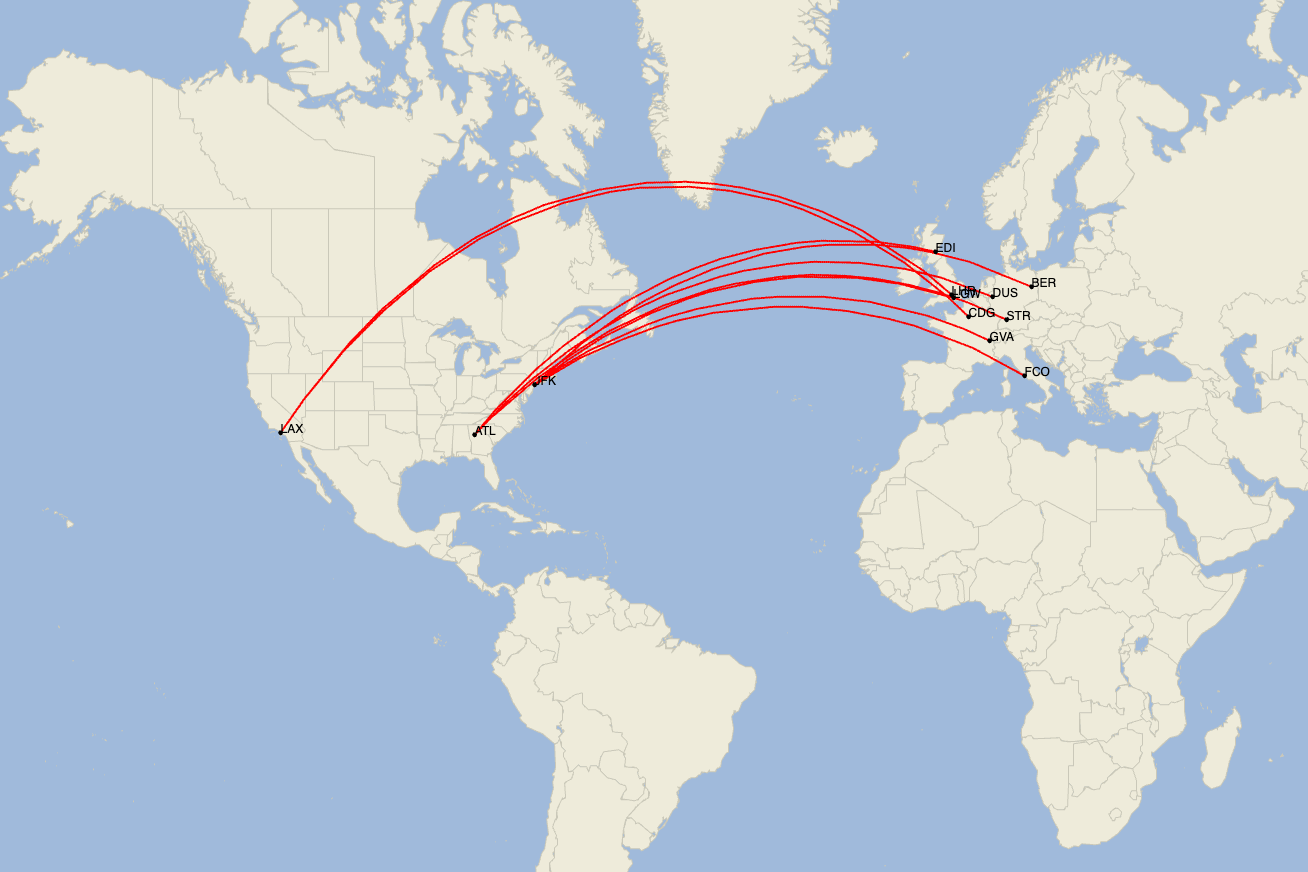 Even though the 2022 summer season just officially ended, Delta is already dreaming of warmer days.
The Atlanta-based carrier unveiled on Friday the details of its transatlantic service for summer 2023, which includes a slew of added routes, including two new destinations for the carrier.
The expansion is largely focused on connectivity at three major hubs: Atlanta, Los Angeles and New York. In total, the carrier will fly 8% more transatlantic seats than it did in 2022.
Sign up for our daily newsletter
"With nearly 620 weekly flights and connectivity to 32 destinations in Europe and beyond, customers will have a wealth of iconic destinations to explore and an unmatched journey to enjoy across the pond," Delta's senior vice president of network planning Joe Esposito said in a statement.
You'll find the full details below, and all of the new flights will be available for purchase over the weekend. Just note that the aircraft deployment strategy is still subject to change.
JFK gets 3 new flights
Perhaps the biggest news is that Delta will add three flights from its primary transatlantic gateway hub at New York's John F. Kennedy International Airport (JFK).
The most exciting will likely be the two new route-map pins for the carrier: Geneva, Switzerland, and London Gatwick.
The carrier will launch a 3,863-mile daily nonstop flight from JFK to Geneva beginning on April 10, 2023. (Delta last flew to Geneva in 1993.)
This route will be operated by a Boeing 767-400, which features a modified version of the Delta One Suite, along with Premium Select recliners, Comfort+ extra-legroom coach seats and standard main cabin seats.
The Geneva service will go head-to-head against the Swiss flag carrier's daily service between JFK and Geneva.
Additionally, Delta will add a new seasonal route between JFK and the London Gatwick Airport (LGW). This service will commence on April 10, 2023, and will be operated daily by a Boeing 767-300.
Delta last flew to Gatwick in April 2012, but that route was operated from Atlanta.
While Delta is already planning two daily flights next summer between New York and the more popular London Heathrow Airport (LHR), it's interesting to see the carrier augment its London strategy with the addition of Gatwick.
Of course, JetBlue Airways started connecting New York and both Heathrow and Gatwick last year, so it's possible that Delta is feeling the competitive pressure to beef up its offerings.
Hopefully, that'll translate to lower fares and more frequent promotions. In addition to JetBlue and Delta, U.K. flag carrier British Airways and budget carrier Norse Atlantic Airways also plan to operate flights between New York and Gatwick, which has historically been a more leisure-focused airport.
Also, Delta will add a third daily seasonal flight from JFK to Rome Fiumicino Leonardo da Vinci Airport (FCO) beginning on May 25, 2023.
This Skyteam hub is a popular destination for Americans looking to visit Italy (and beyond), so it's likely that Delta believes that there'll be robust demand there next summer. This third daily flight will be operated by a Boeing 767-300.
Note, however, that if you're looking for the best possible experience in one of Delta's premium cabins, be sure to select one of the airline's flights from New York to Rome operated by the Airbus A330-300. This jet features reverse herringbone Delta One pods in the pointy end of the plane, whereas the 767-300 sports one of Delta's most dated products.
Finally, Delta will resume serving Berlin on May 25, 2023, when it commences nonstop service to the German capital's new Berlin Brandenburg Airport (BER).
L.A. and Europe are reconnected
Delta will once again connect its hub at the Los Angeles International Airport (LAX) with Europe. The carrier last operated a transatlantic route from LAX in March 2020, before suspending the service indefinitely due to the pandemic.
Now, Delta will bring back flights to Paris-Charles de Gaulle Airport (CDG) on May 8, 2023, as well as to London's Heathrow Airport (LHR) from L.A. on March 25, 2023.
While the Paris route was last operated in March 2020, the London service hasn't been flown since October 2015 — nearly seven years ago.
Though both flights technically mark resumptions for the airline, the carrier is bringing them back with a bang. They'll both be operated by the Airbus A330-900neo, which features 29 Delta One Suites, 28 Premium Select recliners, 56 Comfort+ extra-legroom seats and 168 main cabin seats.
The L.A. to London route is hotly contested, with multiple daily flights available on American, United, British Airways and Virgin Atlantic.
Meanwhile, Air France and Air Tahiti Nui connect LAX and Paris, and Delta's service will supplement what's offered by the former carrier, its transatlantic joint venture partner.
As of next summer, Delta will have restored two of its three European flights from L.A. The airline last flew between LAX and Amsterdam in August 2019, and there's no telling if, or when, that route might return.
That said, Delta is still growing elsewhere from Los Angeles, as the carrier gears up to add service to Tahiti. This hotly anticipated route launches on Dec. 17 with a three-times-weekly frequency.
Atlanta grows with Germany, Scotland service
Atlanta is Delta's mothership — and the mega-hub is growing next summer with three long-haul route resumptions.
The first will be service to Stuttgart Airport (STR) beginning on March 26, 2023. This business-focused route connects Mercedes Benz's and Porsche's U.S. headquarters in Atlanta with their main offices in Germany. It was last operated in March 2020, according to Cirium schedules.
Next up, Delta will restart flights between the Hartsfield-Jackson Atlanta International Airport (ATL) and Dusseldorf on May 9, 2023. This three-times-weekly service last operated in March 2020.
Finally, Delta will connect Atlanta with Edinburgh beginning on May 25, 2023 — a route that hasn't been flown since 2007. This flight will be operated five days a week during the summer season.
All three of the aforementioned Atlanta routes will be operated by Boeing 767-300 aircraft.
In addition to this transatlantic growth, Delta also previously announced a few weeks ago two exciting routes from Atlanta — Cape Town and Tel Aviv.
The new South Africa service commences on Dec. 17, 2022, while flights to Israel take off once again on March 26, 2023.
Bottom line
Delta Air Lines is gearing up for what it believes will be a busy summer 2023 season. The carrier's new and returning long-haul routes mark the latest expansion for the airline.
In late July, the airline announced that it's launching four exciting new routes, including Tahiti, Cape Town and Tel Aviv. This joins expanded domestic connectivity from Boston and New York, among other new flights.
As pandemic travel restrictions in Europe become a distant memory, Delta is boosting its transatlantic service — a popular market for American tourists, and one that's already well on its way to a full recovery.
https://thepointsguy.com/news/delta-new-transatlantic-routes-summer-2023/